Products From AKO Pinch Valves
Economical Valve and Flow Control Solutions

Pinch valves are perfect for regulating the mass flow of many types of applications like slurries, powders, liquids, emulsions, granular materials, and liquids. The secret to AKO Pinch Valves' success is in the sleeves, which are made from a strong, highly resistant reinforced rubber with a material weave. The result is a sleeve that can provide complete stoppage of flow, without any leaks. The sleeves are strong and last a very long time, even with abrasive applications.
Find your application on our page of common and not-so-common AKO pinch valve applications. Even if you don't see your specific application, this does not mean AKO doesn't have a solution for you. Reach out to one of our sales engineers so we can discuss your project further.
The two main types of pinch valves are air actuated and mechanical.
Important Benefits of Pinch Valves
Some helpful benefits to remember about pinch valves and how they differ from other valves in their exceedingly minimal frictional resistance on the mass flow of your product. Even though they are so effective at stopping flow, they will virtually never cause clogging. And with these combined benefits, they're still one of the lightest and easiest valve types to own and maintain. Installing is a breeze and so is the small number of times you may have to replace the sleeve over the lifetime of ownership.
Why Should I Choose Pinch Valves Over other Valve Types?
No other valve design can offer the specific combination of features that AKO pinch valves can. Not ball valves, gate valves, butterfly valves, diaphragm valves, nor anything else. AKO pinch valves have a hermetically sealed design, which is an especially important (sometimes necessary) feature for regulating the flow of solids, slurries, liquids, and granules that can be noxious or hazardous. This air-tight benefit comes in a lightweight valve that allows completely free-flow of product, without any resistance to flow when un-engaged. And pinch valves can reliably regulate the flow of applications to specific percentages of flow with a flow regulator or mechanical screw. No other valve type offers all of the features.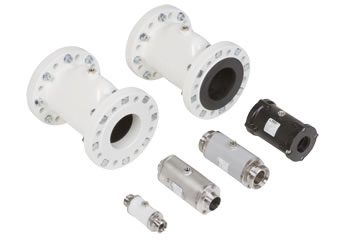 Air actuated pinch valves use compressed air to close and open freely. The high elasticity sleeve ensures a reliable and leak-free seal, along with a quick operation a long service life. Their greatest value is in their operational efficiency where frequent use is demanded.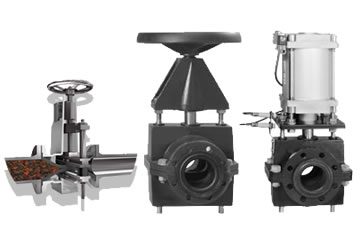 Mechanical pinch valves utilize two horizontal pinch bars that physically close off the highly durable and elastic sleeve for a complete seal. Their simple, intuitive design made with German-manufacturing precision provides great value in low maintenance, low operating costs, and in having a product that will last a lifetime.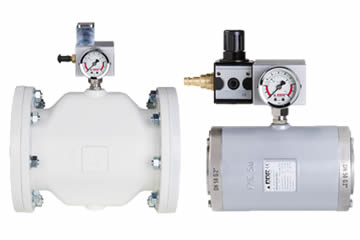 Pressure relief valves are an economical way to protect a pump motor from over pressure or high-pressure dead-head. These valves open in a controlled way to gently relieve excess pressure throughout a system, thereby protecting diverse pumps and tanks. Changes in control pressures can be monitored via integrated pressure switches. They're a popular choice in water and sludge transport systems where they are integrated into pump bypasses.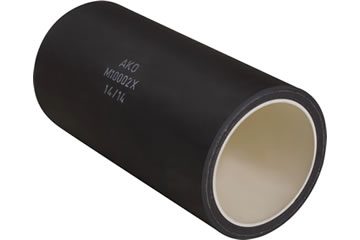 Replacement and spare pinch valve sleeves can be made from rubber, silicon, Nitrile, EPDM and other materials. Each material's properties allow for durable elasticity while being extremely resistant to wear and tear. Your AKO sales person can recommend which sleeve(s) may provide the best value based on your application. Normal pinch valve use requires occasional replacement.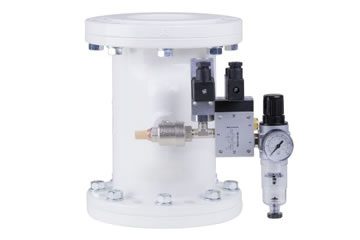 Basecamp Process Components specialize in electric solenoid valves, quick exhaust valves, throttling pressure regulators, and other valve control accessories to help achieve optimum mass flow and regulation with your pinch valve.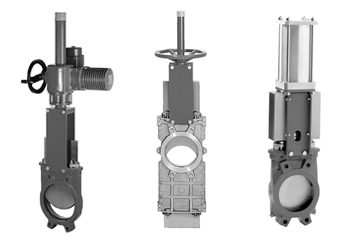 Knife gate valves excel where flow shut-off is desired with the least risk of clogging. Uni-directional valves for abrasive materials and slurries, bi-directional valves, and uni-directional valves for granular materials and powders offer total solutions for both common and unique applications.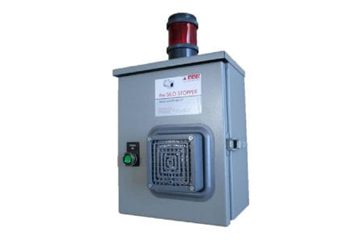 Prevent blower truck product overfill into your Silo. Avoid damage to Silos and Dust Collector Bags.
There are many different pinch valve connection types.
The four categories are:
Flanged: The ends are ANSI 150# or DIN standards depending on diameters
Threaded: The ends are NPT and BSPP (British Standard Parallel Thread) standards
Stub Connection: Weld On, Morris Coupling or Hose Clamp are available as options
Sanitary: Tri-Clamp (Tri Clover) or Dairy Threaded Spigot are available
Your AKO sales engineer will ask you about your preferred connection type. If none is preferred, your sales engineer may recommend one based on your application.
Pinch valves can be paired with several kinds of accessories and integrated parts for improving your process flow. Some key accessories that Basecamp Process Components carries are:
Pressure switches
Quick exhaust valves
Pressure regulating valves
Solenoid valves
Backflow protection units
Visual position units and others
Your Basecamp engineer will make recommendations as needed. Some applications benefit from snappier closing and opening, as well as visualizing the flow of the material through the valve to measure rate and so forth.
On Using AKO Pinch Vavles in At-Explosion-Risk Systems
If your system has any explosion risks that require explosion risk mitigation or proofing, tell your Basecamp sales engineer who can navigate the industry leading AKO solutions available to you. AKO air operated pinch valves meet the Pressure Equipment Directive of 2014/68/EU. Specific models are suitable for use in Explosion zones 0, 1, 2, 20, 21, and 22.