AKO Vac System, Non-Return Flow and Safety Arrangements, Proportional Pressure Regulator, and SAS Threaded Nozzles.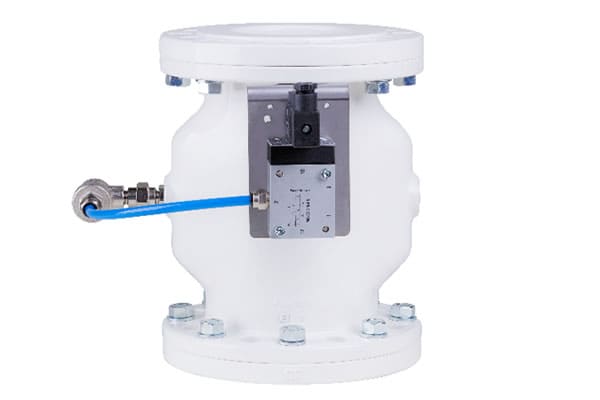 These inexpensive attachments mount directly to the valves and offer quick air exhaust for fast opening times (typically under 1 second).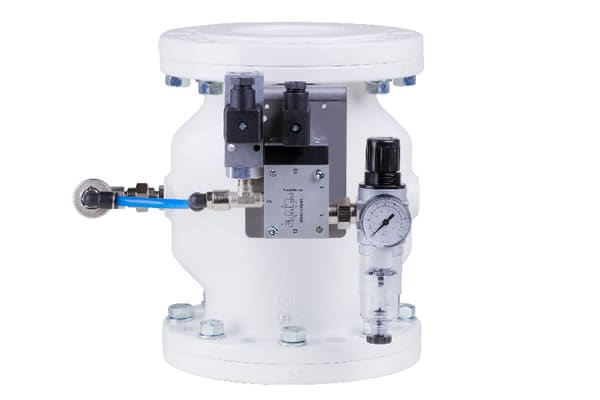 Solenoid Valve Packages – to actuate your valves
3-way Normally Open (Pinch Valve Normally Closed)
3-way Normally Closed (Pinch Valve Normally Open)
Offered with 24 VDC or 24 VAC, 120 VAC and 220 VAC electrical actuation coils, pressure switch monitoring, regulators, mounting brackets and other common accessories.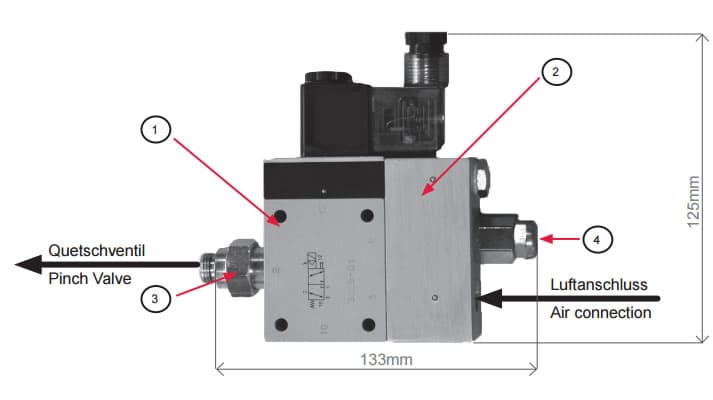 This pneumatic protection circuit keeps an Air Operated Pinch Valve Closed, even when compressed air and/or electrical power is lost. The valve has manual overrides to open and close the valve if electrical power is lost completely.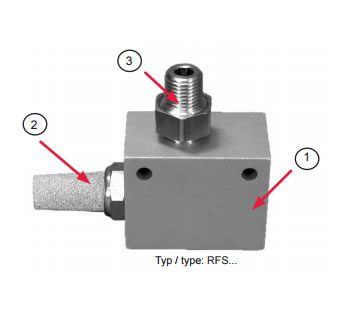 Flow Return Valve – for Back Flow Prevention
If there is a pinch valve sleeve defect, the interior valve medium can push into the control line, contaminating air control valves and surrounding air components. A Flow Return Valve prevents contaminated air from entering the control air line.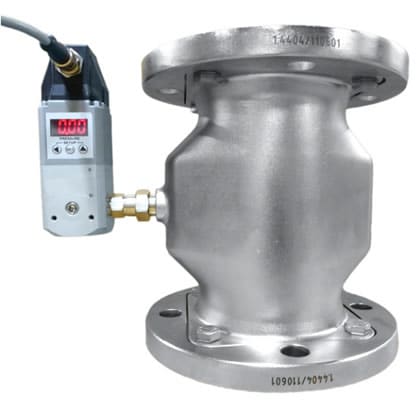 Proportional Pressure Regulator – partially close an air operated pinch valve for proportional flow control.
IUsing a proportional regulator, air operated pinch valves can be partially closed (say 50% closed) to regulate product flow through a valve. Manual settings, 0-10V or 4-20mA signals can be used to partially close valves.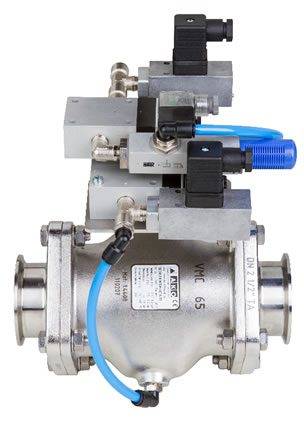 Vacuum Application Unit – for Vacuum Conveying Applications
Used to prevent partial valve sleeve collapse when the interior medium is under vacuum. It takes only 10-15 PSI to partially close an air operated pinch valve sleeve and if you are transferring an abrasive medium under vacuum pressure, the pinch valve sleeve may partially collapse, leading to premature sleeve wear. The AKO VAC Vacuum Application Units pull an adjustable vacuum pressure on the sleeve exterior to keep the valve interior 100% open during vacuum product transfers.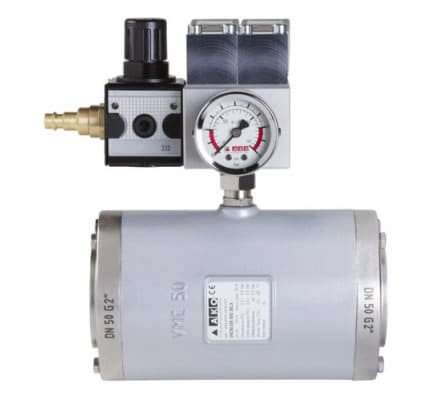 Pressure relieve or open bypass lines to protect of pumps, tanks, pipelines and other pressure sensitive devices.
If you have a custom control requirement, involving Explosion Proof environment, PLC Control, Smart Relay control or other unique requirements, we can help.