RV | MECHANICAL ACTUATED PINCH VALVES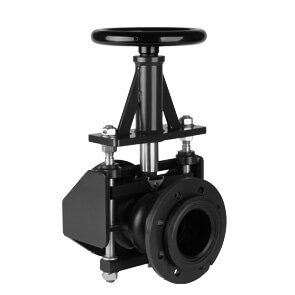 Type RV – Heavy Duty Mechanical Pinch Valves – Available in Manual Handwheel, Two-sided pneumatic cylinder, Single-acting, Spring return pneumatic cylinder, single-sided pneumatic spring with a pneumatic cylinder, Hydraulic cylinder, and Electro-mechanical actuation.
Cast iron, steel, welded steel or welded stainless steel Pinch Valves from 1" – 47" diameters [25 mm – 1200 mm]
RV Series Pinch Valves are reliable and heavy duty pinch valves:
Sleeves are available in 10 different grades:

natural rubber
EPDM
EPDM food quality
Nitrile
Nitrile food quality
Butyl
Neoprene
Hypalon
Viton
Silicone

Maximum 1 bar, 6 bar, 10 bar, 16 bar, 25 bar and 40 bar operational pressures depending on size.
Guarantee closure with air and power loss using spring return cylinders.
Achieve accurate partial closure using 3 position sensors.
Valve Sizes


Inch [mm]

Flanged Ends

Actuation Type

Max Recommended Line Pressure

½" Inch [15 mm]

DIN 15

Handwheel or Cylinder

75 PSI

¾" Inch [20 mm]

DIN 20

Handwheel or Cylinder

75 PSI

1" Inch [25 mm]

DIN 25

Handwheel or Cylinder

75 PSI

1.25" Inch [32 mm]

DIN 32

Handwheel or Cylinder

75 PSI

1.5" Inch [40 mm]

DIN 40

Handwheel or Cylinder

75 PSI

2" Inch [50 mm]

DIN 50

Handwheel or Cylinder

75 PSI

2.5" Inch [65 mm]

DIN 65

Handwheel or Cylinder

75 PSI

3" Inch [80 mm]

DIN 80

Handwheel or Cylinder

75 PSI

4" Inch [100 mm]

DIN 100

Handwheel or Cylinder

75 PSI

5" Inch [125 mm]

DIN 125

Handwheel or Cylinder

45 – 75 PSI

6" Inch [150 mm]

DIN 150

Handwheel or Cylinder

45 – 75 PSI

8" Inch [200 mm]

DIN 200

Handwheel or Cylinder

45 – 75 PSI

10" Inch [250 mm]

DIN 250

Handwheel or Cylinder

30 PSI